DarkStar® Max UST-FR Gets the 2022 Sound & Vision Editor's Pick Award
Award: Sound & Vision Editor's Pick
Product: DarkStar® Max UST-FR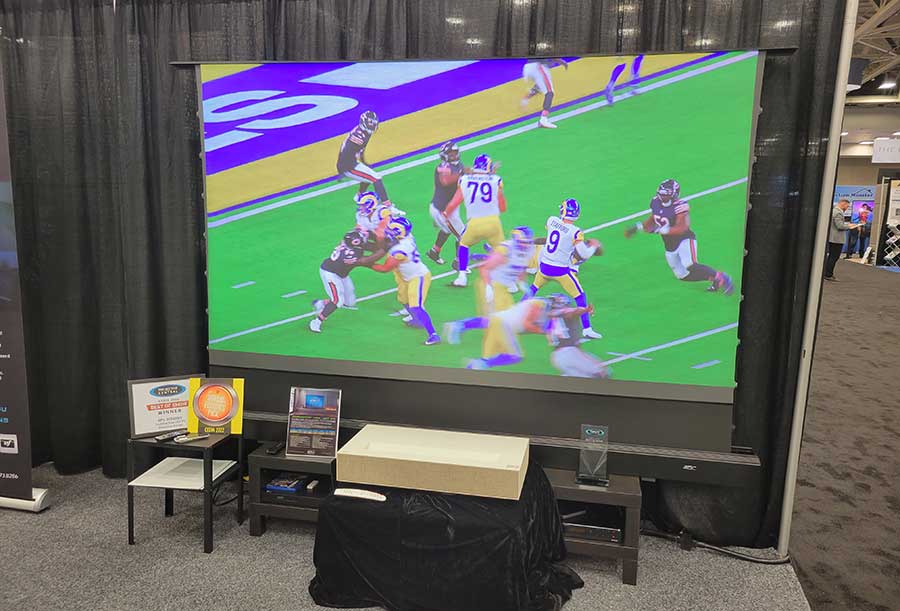 A nod to the burgeoning 4K UST projector segment, which is bringing down the cost of 4K (or at least near-4K) laser projection while creating new living room-friendly options for anyone who wants a big picture without dedicating a whole room to the endeavor.
EPV is the custom install division of Elite Screens, a company well regarded for providing high value and a wide range of options. What stood out about this screen is the material—it's ultra-thin and it has some elasticity to it. It was very effective at ambient light rejection and it also stretched out completely flat, with no surface anomalies. It just looked good and worked well. It's available in both 100-inch and 120-inch (diagonal) sizes.
About the DarkStar® Max UST-FR
The DarkStar® Max UST-FR Series is a non-invasive motorized free-standing electric projection screen that features a Ceiling/Ambient Light Rejecting (CLR®/ALR) Ultra-short throw Projection material. The design features motorized "scissor-backed" cross risers that raise and lower the material.
Matte white screen materials don't work well with the lights on and that limits them to dark room presentations. The DarkStar® UST material mitigates the washout effects of ambient light while boosting color saturation, contrast and black/white dynamic range. To minimize the projection footprint, the material is specially formatted tab-tension reinforced to work specifically with UST (ultra-short throw) projectors.