Special Edition Dark Star® Series Gives World Class Performance at a Price point that Expands Custom Installer Opportunities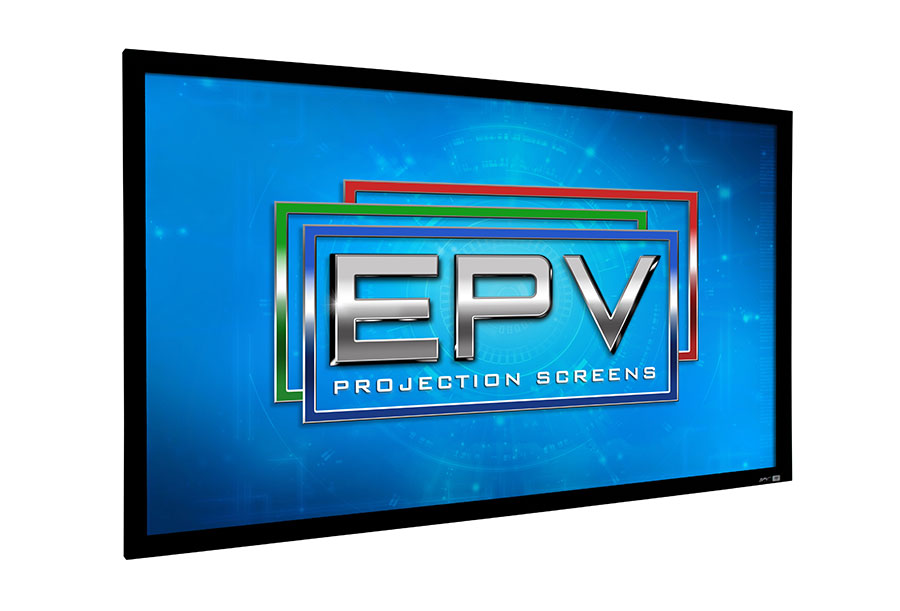 Garden Grove, Calif., April. 26, 2019 — Elite Screens Corporate Headquarters.
The Special Edition DarkStar® by EPV Screens provides reference grade video performance in either a dark room or rooms with high levels of interior lighting.  Instead of the image washout common with typical matte-white projection screens, the Dark Star SE blocks illumination from overhead or off-axis light sources for   a bold, bright, crystal-clear image even in the most challenging spaces.  When shown under optimal cinematic lighting conditions, the material lives up to its ISF certification by the world-renowned Imaging Science Foundation.
The projection surface is bordered by a 2.4" (59.4 mm) thick aluminum frame that is coated in hand-wrapped velvet. The DarkStar®9 screen is a composite, multilayer material designed to reject ambient light away from the viewer's field of vision. This composite material eliminates the washout effect which destroys matte white imagery under bright room lighting conditions.  The DarkStar® 9 material attaches to the frame using a spring and grommet construction that ensures perfect uniform flatness. In addition to absorbing overhead ceiling light, the DarkStar® 9's black diffusion layer provides high-contrast performance to enhance color saturation, contrast and back level dynamic range.
Screen Material
DarkStar® 9 material has a wide viewing angle that reflects a bright image across the entire surface for superior off-axis performance
Active microstructural filters absorb 95% of ambient light from above and below
Diffusion layers enhance color contrast and black/white dynamic range performance
Wide diffusion uniformity across the entire screen surface without color shift, texture, shimmer, hot-spotting, dark corners and other distracting artifacts
Scratch-resistant material is easy to clean
4K/8K Ultra HD, HDR Ready for high resolution projectors and content
Certified by the Imaging Science Foundation (ISF) for accurate color points, dynamic range, and color temperature
Available in diagonal sizes: 106" and 122" in 16:9 or 156" in 2.40:1 aspect ratio
Design and Installation
2.3" wide aluminum frame with hand-wrapped velveteen surface provides an elegant finish while absorbing projector overshoot
Spring and grommet attachment system allows for an easy installation with a clean, smooth projection surface
Lightweight split-frame design is cost effective for shipping and provides easy access to install sites
Assembles and installs in minutes
Sliding wall mounts ensure precision on-axis alignment
Pricing, Availability and Warranty
EPV Projection Screens' Special Edition DarkStar® Projection Screen is available with a starting price of $3499.  It is presently available in 106" & 122" sizes with a 16:9 aspect ratio or 156" in a 2:40:1 aspect ratio. It is available through EPV Screen's line of dedicated residential & commercial integrator products.   It comes with Elite's limited lifetime manufacturer's warranty.
About EPV Screens®
EPV Screens is the division of Elite Screens Inc. that is devoted to providing the required products for today's dedicated custom installer. EPV is focused on providing innovative solutions to an evolving market. It does so by providing the latest product designs at the most competitive terms. EPV features a broad array of electric and fixed-frame projection screens with front or rear projection, acoustically transparent, ambient light rejecting and even polarized 3D material options.
EPV Screens is headquartered at 12282 Knott St. Garden Grove, CA  92841.
For more information, please call 877-511-1211 or visit www.epvscreens.com