EPV® Peregrine 4K In Award Winning Case Study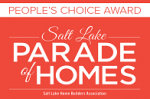 The 135", 16:9, 4K Elite Prime Vision® screen from Elite Screens is an excellent match for the Sony 4K projector. The screen is also acoustically transparent, allowing the front 3 speakers, and 2 subwoofers to be mounted directly behind the screen. This type of commercial-theater speaker placement places the audio at the same level as the action on screen.
Award winning project link: http://www.tymhomes.com/project/tree-haven-homes-2015/
Installer Company Name:TYM Home Theaters & Smart Homes
Installer Link:www.tymhomes.com
Product: Peregrine A4K
It's always a pleasure for a brand to be front and center for a high-end installation but it really is an honor to hear known industry experts speak so highly of your product. Recently EPV® had their Peregrine A4K(acoustically transparent UHD) projector screen installed by TYM Smart Homes & Home Theaters of Sandy, Utah as part of an award-winning integrated home project. There are beautiful installations and then there is mind-blowing excellence that wins The People's Choice Award at the 69th annual Salt Lake Parade of Homes. Please take a moment and check out the outstanding work that TYM did. It really is an honor to have our product chosen for such amazing work.