Residential Systems Magazine Covers The Latest Home Theater Projector and Screen Trends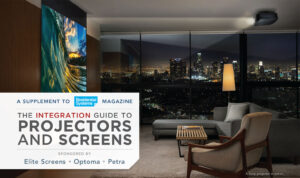 From Portable to UST Projectors to Ambient Light Rejecting (ALR/CLR®) or Acoustically Transparent (AT), Here is the Breakdown from the Manufacturers as to What Their Customers are Requesting
There are a lot of good brands out there and it was our pleasure to contribute to an article for Residential Systems Magazine. Hands down, everyone agrees that 4K is just the way to go. As obvious as this sounds to an AV professional, the concept can be entirely missed by a shopper distracted by the various low-cost 1080p brands they see online.
There is comparatively little out there to help customers understand the difference between good and fantastic. Articles like this are useful for customers to share the vision that the installer has. Some installations may require anything from a portable projector to accommodate space requirements or high resolution projectors with minimal lag times to accommodate the latest game console as well as 4K movie content. In regards to screens, some opt for a dense-weave acoustically transparent material like what you see in a theater. In the case of EPV Projection Screens, many customers have an interest in bringing the big screen out of the dark and into the well-lit living spaces for everyone to see.
Click Here to Read the Full Article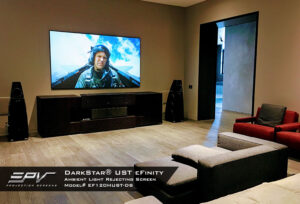 About The DarkStar® UST eFinity
EPV Screens came forward with its award-winning DarkStar® UST eFinity It absorbs up to 95% of overhead light replacing flat panel TVs with a larger-than-life image.
The ultra-short throw design allows projectors to maximize light output resulting in superior in picture quality, contrast, color temperature, diffusion uniformity, and size over costly 100" flat panel screens. This brings together the best of both worlds. It rejects the washout effects of ambient light but is designed to accommodate the small footprint of a UST (ultra short-throw) projector.

See More Case Studies and Learn About The Projector Screen Industry.
Elite Screens is one of the world's top brands in projector screens. Our blog is designed to answer the tough questions everyone has but may be afraid to ask on a public forum. Elite's Projection Screen Blog provides you with insight on the latest industry trends, tech tips and customer testimonials so that you may acquire an inside view of this diverse channel.
We Can Fulfill Your Order Within 3-Business Days
EPV Screens can fulfill your order quickly through our West & East Coast (CA/MD) facilities. Each location serves the various regions quickly and effectively. Contact us now to learn about our various programs.
For more information about EPV Screens, please visit our website
or contact us at:
Phone: 310-873-8286
Email : sales@epvscreens.com