Elite Prime Vision® DarkStar® 9 Projection Screen Review
The DarkStar® is a .9 gain retro-reflective ambient light rejecting material. It is professionally engineered to incorporate optical filters that actively reflect a projected image while preventing (indirect) ambient light from "washing out" the picture.  The .3mm thick retro-reflective material has been designed specifically for the home theater environment.  It includes a velvet-coated 3.5" aluminum framework with a horizontally adjustable wall bracket set.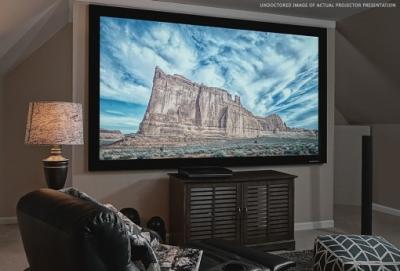 Award Description:   2015 was very much a transitional year for both audio and video technology.  Here, then, is Sound & Vision's list of standout products reviewed in the 2015 calendar year. Make sure you check current pricing online; we list MSRPs as originally reviewed, and some products are now heavily discounted.
URL Link: http://www.soundandvision.com/content/2015-top-picks-year-front-projectors#UOL7bBJBT5pPpPCE.97